Why Buy LED Display Signage?
---
LED Digital Electronic Message Center Signs and Video Displays are also known as LED Signs, LED Displays, Display Signs, Digital Signs, Jumbotron Signs, Changeable Signs, Changeable Letter Signs, Scrolling Signs, Marquee Signs, Message Boards, Electronic Billboards, Display Boards, and Readerboard Signs or Reader Board Signs, among many others.
Electronic message centers and video displays help your company many ways:
They allow real-time communication with potential customers. With almost 20% of the US population moving in a year, new potential customers of varying demographics are always viewing your signage. What is effective now may not be effective later…or after lunch.
LED Displays attract attention through animation and brightness so they increase awareness of your organization's location and your products.
Digital Displays are prettier than signs with changeable plastic letters, improving the appearance of your building.
Your message is not limited by the size of your Digital Signage, or to only one message.
Your advertising dollars invested in your LED Signs are targeted to selling in your trade area, preventing excessive advertising expenses.
Changing your Video Display, any time you wish, is as easy as typing. It can be done often and safely.
Quality electronic marquee signs are readable from a further distance, especially in poor lighting.
Need to upgrade the image of your location? Because the first impression of a business, church, or school IS its signs, a LED Messaging Sign instantly gives potential customers a modern up-to-date impression of your business!
Full color digital display signs are vastly superior to monochrome scrolling marquee signs in impressing potential customers. Fortunately they are no longer vastly more expensive!
Turn drive-by traffic into walk-in customers!
Research shows that you have 3 seconds to attract a passer-by's attention and communicate your message. An electronic message center will make your message stand out from the crowd of signs around you. Even displaying the time and temperature can give a viewer valuable information which they will associate with your business. Combining that capability with animated messages, possibly in color, can really drive your sales up, 15% to 150%!
Even the Federal Government has determined that signs containing electronic message centers are safety enhancing devices, not traffic hazards! This is why they are used on roadways to communicate with drivers.
Why Do I Need A Sign For My Business SBA.pdf
SBA Features and Benefits of EMCs.pdf

The importance of signs in helping a company to survive was recently underscored when the Small Business Development Center (SBDC), with their NxLeveL for Entrepreneurs training program, which is available in 40 states, added an entire week to their program to present more deeply "…the importance of signs and their impact on a business…"
We can help, so long as your landlord and the City understand the importance of good signs and allow you to install signs that will help you succeed. Unfortunately this isn't always true.
Choose your location(s) wisely (and receive your landlord's approval of your signs package BEFORE you sign your lease.)
City Signs Ordinances, and Landlord Lease Restrictions, can doom a company.
Most City Sign Ordinances can be accessed by visiting our "Permits & Approvals" page, after accessing our "Installation & Service" page, if you care to learn about them without our help. However we have worked with them for so long we know most of them by heart.
Remember the axiom "Location, Location, Location!" The supreme importance of "location" is the numbers of potential customers that will see your signs...and be able to read and understand them. Very important design and marketing considerations.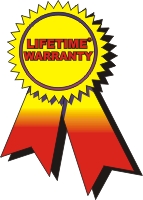 If you are located in the Dallas/Fort Worth "Metroplex" in Texas the Texas Department of Transportation has probably counted traffic in front of your new location. Go to www.dfwinfo.com/trans/data/tcins to see how many vehicles will see your signs every day! Other regions have similar information available.
Amazingly, 25% of a company's street's traffic does not normally travel on that street.
With 18.6% of the entire US population moving each year, your sign will be constantly seen by MANY potentially new customers.
The Best Investment You Can Make
---
How much would you invest to double your take-home pay?
The United State Small Business Administration (SBA) says that an LED message center sign in front of a business increases the store's sales volume 15 – 150%.
This is all profit; expenses are already being paid.
Even with a 50% cost-of-goods this is an increase in take-home pay of 7.5% - 75%. Most businesses do not have this high a cost-of-goods.
Deduct from this amount the $10.25 per day it costs to both purchase and operate a 6' x 12' free-standing full-color LED message center sign that is installed 20' tall, paying off the loan in 6 years. After that, only deduct about $1.00 per day.
It's Black and White; what are your current sales? Do you want the additional income? Are you willing to invest $10.25 per day?
This is probably the safest investment in the world, with the highest potential return, for a business owner to make.
"In my previous 9 years of being in business I have never had 40 customers in a day. Since you put up my Sunburst™ LED Display sign I have so-far averaged 53 customers per day, but my business is still growing again."
Muhammad Faridi, MD, McAllen Medical Center, Dallas, Texas
BIG Business Booster
---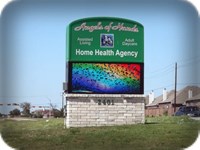 There is no question that LED electronic message centers and video displays are the signage communication wave of the future. Local advertising has never been cheaper because of them.
Every store has a need to promote special events, sales, sponsorships, etc.; either at their store location and/or at local sports events, parades, church and school events.
If your storefront is not located where you can have a permanent messaging sign, or you need to advertise at multiple locations (like the kid's soccer game), the question is, HOW?
This question has been answered with "The LED Sled™" pictured above, Sunburst Displays™'s new portable self-powered LED electronic message center and video display.
Local companies have never before been able to be so creative, to think so far outside the box to gain a competitive advertising advantage.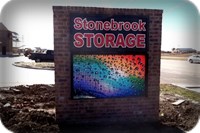 "To rent, or to own, THAT is the question." (sorry Shakespeare.) How often do you need to promote your business?
If you are a multi-location business you need to own one of these! Some location ALWAYS has special needs or opportunities. Or a new store under construction.
If you're not in the Dallas/Fort Worth Metroplex you absolutely need to own one because you are too far away for us to rent you one!
Click on the "Rentals" or "Portable Sign Sales" tabs on the left for details.
Competition
---
The nature of competition is that every competitor that buys a similar sign after you do will try to purchase one that is bigger and better.
Because of this, buy the latest technology and the biggest sign allowed by city ordinance.
Texas' Success Story
---
The Dallas/Fort Worth "Metroplex" continues as the fastest growing large city area in the United States, year-after-year. It is the fourth fastest growing such area in the world. As fast as in China or India!
Dr. Mine Yucel, Vice President and Senior Economist for the Federal Reserve Bank in Dallas, reports that more people are working in Texas than ever before.
North Texas is expected to gain over 4,000,000 new residents in just the next 4 years! The economy HERE remains healthy! Well over 100 new businesses are started in just the D/FW Metroplex every week.
Don't let the "doom-n-gloomers" talk you out of being successful. This is the best time ever to start a new business in North Texas and Northeast Texas.
Changeable Message Signs – A Brief History
---
When LED lighting first replaced incandescent lighting in changeable message signs their color was monochrome, and their array was balanced.
When color LEDs were introduced existing computers could not coordinate the virtually unlimited display options a balanced array offered. This resulted in a very "grainy" product. The 3 led colors (RGB) were therefore grouped into "pixel clusters" so that these classic computers could control the display, providing better results.
We've come a long way; computers and processors are thousands of times faster than early models.
The technical ability to place larger individual LEDs closer together without electrical co-interference has greatly improved also.
Not bound by pre-existing equipment or designs, and rather than invest in dated technology, Sunburst LED Signs™ utilizes modern computing power to control the virtually limitless potential of our large LED Balanced Array™ Video Displays and Digital Electronic Message Center Signs.