CALL NOW!
toll-free
M-F 8-5 Central

Dallas
(214) 339-2227
Fort Worth/Arlington Areas
(817) 861-1234
Hillsboro/Waco Areas
(254) 582-7446
Sherman/Greenville/Paris
(903) 561-5959
Denton/North Texas Areas
(940) 365-3433
Dallas Areas
(972) 850-3300
Email our Sales Team

Shopping for Programmable LED Signs
---
Avoid common pitfalls when looking for an LED sign:
Check your cities Sign Ordinance. What is allowed? What is not? Many cities have requirements for LED signs and almost all of them require a Listed sign.

From how far away do you want your message to be readable?

From how close must the sign look good? Whether it is going to be a ground sign or a pole sign affects this. If your viewers are up close when looking at your sign, you need a higher resolution display.

Will you display pictures and video? If not, a monochrome sign will work to just display text. Otherwise, go for a full color display and take advantage of its color and animation capabilities.

How important is quality? Are you willing to spend the time dealing with installation, service and programming problems to shave some dollars up front, or would you rather be trouble-free with a quality sign? Consider leasing a quality sign rather than going cheap up front (by leasing you'll get the best of both worlds, a quality sign with no money down.)

Would you like to be able to display the Time and Temperature?

How computer-savvy are you? Should the system be easy to use?

Is it important for you to own the ability to update the sign or do you want it on the cloud (owned by somebody else?)

Now find signs that meet your needs. Buy your sign from a company that will be here far into the future to service your sign, and train your new employees to use the sign years from now.
Simple, huh?
But Who Is The Best Manufacturer?
---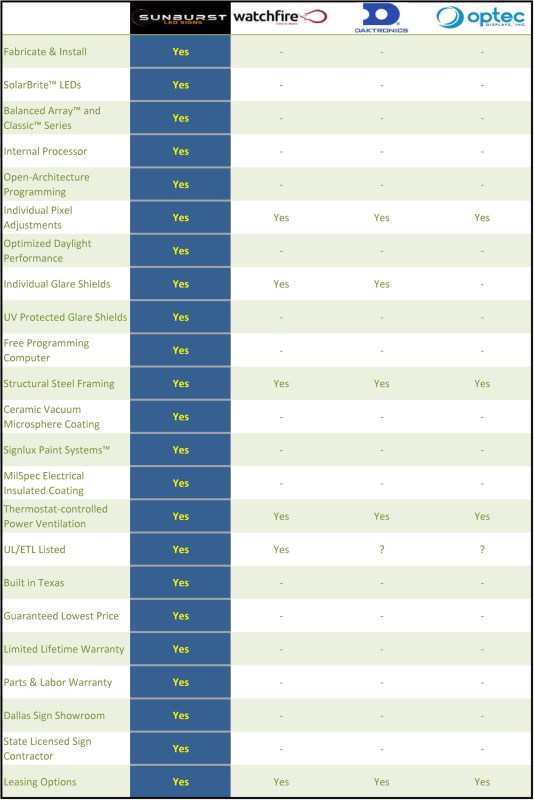 There are a handful of manufacturers that build Listed signs (capable of being installed in every jurisdiction that allows LED signs) and provides support for their own products. In the chart on the right we have listed a few of those companies and compared them with Sunburst.
You can see that Sunburst offers a lot of features that none of the other companies do. Plus, we control our own timetables, quality, service our own warranties, etc.
Sunburst also installs its own signs!
There are a lot of other LED sign companies out there now that the Chinese manufacturers have infiltrated the US LED sign market. But the Chinese products are flooded with problems:
quality control issues,

support problems,

poor software development,

failed components,

dramatic delays in production and service,

none of them are Listed,

and many, many more (ask anybody that owns one).
In addition, they're not cheap! The massive shipping and handling costs increase the cost of the signs by 25% on average!
No company can build a sign made 100% with American parts. Many electrical components come from overseas. But Sunburst controls every aspect of production including having LEDs made to our specifications in order to withstand the Texas heat.
Don't hesitate to come visit our Showroom to see for yourself what a Sunburst sign looks like as well as what the differences are between the different sign models and technologies.